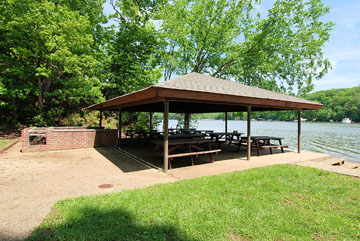 Location: Gated entry at end of Constellation Drive
The Constellation Beach area offers a covered pavilion with picnic tables, outdoor grill, pier, boat launch, kayak racks, and indoor restrooms. Key required for drive-in entry.
Hours of use are restricted.  
Questions about this area can be directed to the Board Beaches & Piers Representative.
Information & Rules
Access, Keys, Gate Lock. A gate key is available from the Realtor Representative. This key is not to be duplicated.  The gate is to be closed and locked after passing through. It is generally not to be left open or unlocked. Members should not allow anyone to pass through the gate with them unless the person(s) is an escorted guest or another Member. This is for everyone's protection. Should a Member have a number of guests arriving at the beach, that Member may post his or her name at the bulletin board near the gate and leave the gate open for the duration of the event. However, that Member should maintain vigilance and ensure those people entering through the gate are Members or their escorted guests. Automobile access is discouraged between December and March.
Hours. The beach and pavilion is available for use only between one hour before sunrise and one hour after sunset, but in any event no later than 10 p.m. unless approved otherwise by the Beach Representative. Any person found at the beach after sunset or 10 p.m., whichever is earlier, will be considered to be trespassing and could face possible arrest.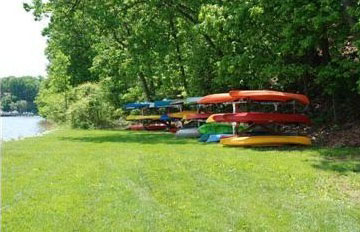 Use. All facilities are available on a first come/first served basis subject to the Pavilion reservation provision below.
Pavilion. A maximum of four tables (maximum 32 people) may be reserved on any one day. The remaining four tables are unreserved and available on a first come, first served basis. The entire Pavilion may be reserved for community wide events. Please contact the Beach Representative to reserve up to four tables.
Boat Ramp. The boat ramp is available for Members use during the hours indicated. It is not to be used by non-Members regardless of whether they are escorted or not
Pier. Swimming, diving or otherwise entering the water from the pier or boat ramp is strictly prohibited. Members only may tie up at the pier on a space available basis however; under no circumstances will said member be allowed to dock overnight at the pier.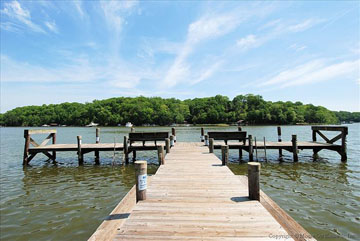 Kayak Racks. These racks are available for Members only in accordance with the assignment procedures established by the Beach Representative.
Vehicles and Boat Trailers. All vehicles and trailers within the gated area must display a Harbor Hills bumper sticker. All escorted guests should park at the residence of their host. Guest vehicles are not to be parked in the beach area. Boat trailers must be parked along the beach access drive. This area is marked with a sign. Overflow parking is allowed in the Constellation Drive cul-de-sac. Bumper stickers for automobiles and trailers may be obtained from the Realtor Representative.
Restrooms. The restrooms are protected with combination locks. Contact the Beach Representative for the combination. Toilet paper and paper towels are not provided because of the moisture problem. The restrooms are winterized and locked during the winter months.
Swimming. Swimming from the beach only is permitted at your own risk. Children under 12 years of age must be supervised by a parent or adult guardian when at the facility.
Pets. Pets are not permitted in the beach area between May 1 and September 30. Pet owners are responsible for cleaning up after their pets.
Maintenance. The grass will be mowed occasionally during the growing season.  Members should contact the Roads and Beautification Representative with any concerns.
Clean-up. All litter must be placed in the trash receptacle(s). In the absence of trash receptacles, each user of the facilities shall remove his or her trash upon departure. Only non-glass containers are permitted in the entire facility.  Barbecue fires must be completely extinguished prior to leaving. Please use water carefully, not sand, to put out any barbecue fire. Smokers may not leave cigarette or cigar butts in the sand.
[2011 update]