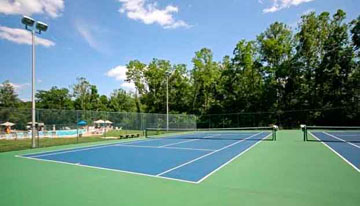 Location:  1 Carson Cove
Harbor Hills has Two (2) Championship lighted tennis courts including a practice backboard and covered pavilion with picnic table. Court reservations recommended.
Sign-up sheet located in kiosk at entrance to courts.
Questions about the tennis courts community sponsored activities can be directed to the Sports Representative.
Courts Information
Hours. The tennis courts are open year-round from sunrise to 10 pm. There are timer operated lights at the courts.  Players are responsible for ensuring these lights are not on after 10pm.
Court Time. Harbor Hills has two tennis courts. Members may reserve (1) Court per day in advance by using the sign-up sheet posted outside the courts. The Harbor Hills member reserving the court is to be one of the players. Court reservations are limited to one-half (1/2) hour solo, one and one-half (1 1/2) hours singles, and two (2) hours doubles. Members must play their reserved time before reserving another court. Courts that are not reserved are available to Members and their escorted guests on a first come/first serve basis. When other members are waiting to use courts, member play time is restricted to one-half (1/2) hour solo, one and one-half (1 1/2) hour singles and two (2) hours doubles. Reserved courts shall be considered "open" if players reserving the courts have not taken the court within ten (10) minutes of the reserved time.
Rules of Tennis. Please refer to and observe the "Courtesy Rules of Tennis" posted outside the courts. In situations not covered by these rules the decision of the Sports Representative is final.
General Rules. Tennis shoes and shirts must be worn when playing tennis. Swimming attire is prohibited.  Only players are permitted inside the tennis court area. No pets, non-participants, food, smoking, glass containers, bicycles, skateboards or motorized vehicles are permitted in the court area.
Trash. All trash and litter is to be placed in the receptacles provided at the net. Tennis players are responsible for emptying the courtside receptacles when they are full and there is a large trash can in the tennis pavilion for that purpose.
Rollers. DriFast rollers are provided to push water off the court surface and speed drying. Please store the roller in the designated area after using. During winter months the rollers are to be stored on designated brackets in the tennis pavilion. They may still be used but are to be returned to that location after use.
[2017 update]