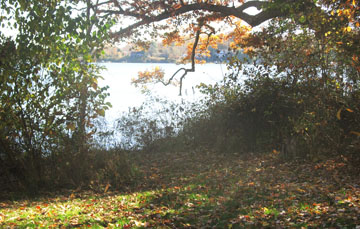 Location: Near the end Merrimac Road, on the right
Merrimac Beach is an environmentally sensitive narrow waterfront area. Access is via a moderately steep paved foot-path marked by a sign on Merrimac Rd. This is a scenic area that is pet-friendly. There are no facilities here.
Questions about this area can be directed to the Board Beaches & Piers Representative.
Hours. The Merrimac waterfront area is available for use only between one hour before sunrise and one hour after sunset, but in any event no later than 10 p.m. unless approved otherwise by the Beach Representative. Any person found at the beach after sunset or 10 p.m., whichever is earlier, will be considered to be trespassing and could face possible arrest.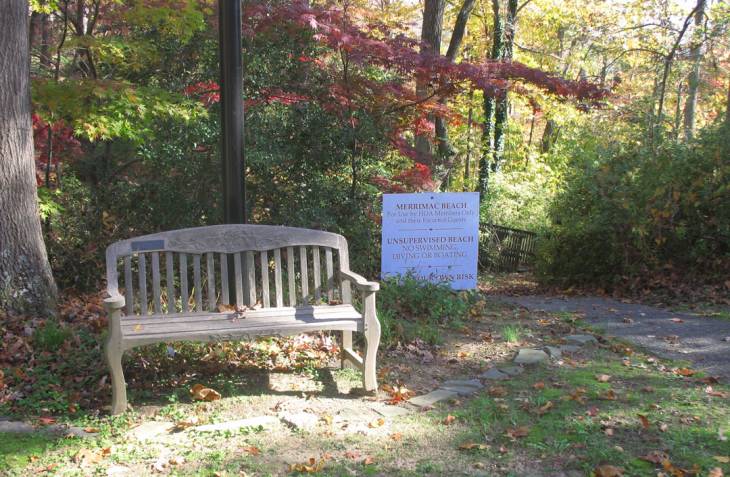 Use. Users should exercise caution when accessing the facility for the path leading to it is subject to limbs falling and erosion. Children under 12 years of age must not be  unattended when on the path or at the waterfront. Users should be respectful of adjacent private property.
Swimming. Swimming, diving or entering the water from this waterfront are strictly prohibited.
Vehicles. Vehicles should be parked on Merrimac Road without infringing on the right-of-way of other property owners.
Pets. Pets are allowed year round. Pet owners are responsible for cleaning up after their pets.
Maintenance. The grass will be mowed occasionally during the growing season.  Members should contact the Roads and Beautification Representative with any concerns.
Clean-up. No trash receptacles are provided. Please take your trash with you when you leave. Only non-glass containers are allowed in the beach area.
[2011 update]